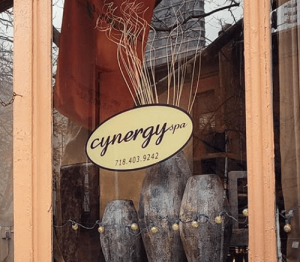 A native of the beautiful southern Caribbean island of St. Vincent, and Canadian transplant, Marsha-Ann Boyea seems a natural for the beauty business. Her bright smile and warm personality help usher you into the welcoming oasis that is Fort Greene's Cynergy Spa, where specialized holistic facial, massage and body treatments have helped relax, refresh and revitalize loyal patrons for many years (and it's one of the area's many women-owned businesses!). We popped in to chat with Marsha-Ann about her entrepreneurial journey, the neighborhood and what makes her spa special.
FAB: What was your first job? Did it influence you to do what you do today?
Marsha-Ann: My first job was as an English teacher to junior high students. It taught me the importance of listening versus hearing, and my patience monitor was securely and permanently installed. Over the years the importance of having these two qualities has proven invaluable.
FAB: How long has your business been open /what's your anniversary date?
Marsha-Ann: Cynergy Spa has been open for 15 years now, our anniversary is December 1st.
FAB: What do you like most about your Fort Greene location?
Marsha-Ann: I love the vibe and flavor of the Fort Greene neighborhood. It's an eclectic blend of ethnicities and still has that neighborly, unpretentious feel for the most part. We are centrally located and hence come into contact with a wonderfully varied client base.
FAB: What has been the most challenging aspect of owning a business?
Marsha-Ann: Finding a synergistic blend of team members was particularly challenging given the type of service that we offer. Finding the right therapist at times was difficult. Energies of therapists have to blend well in order for a place of wellness to be effective. I am very happy with my team. They have all honed their craft and their personalities blend beautifully.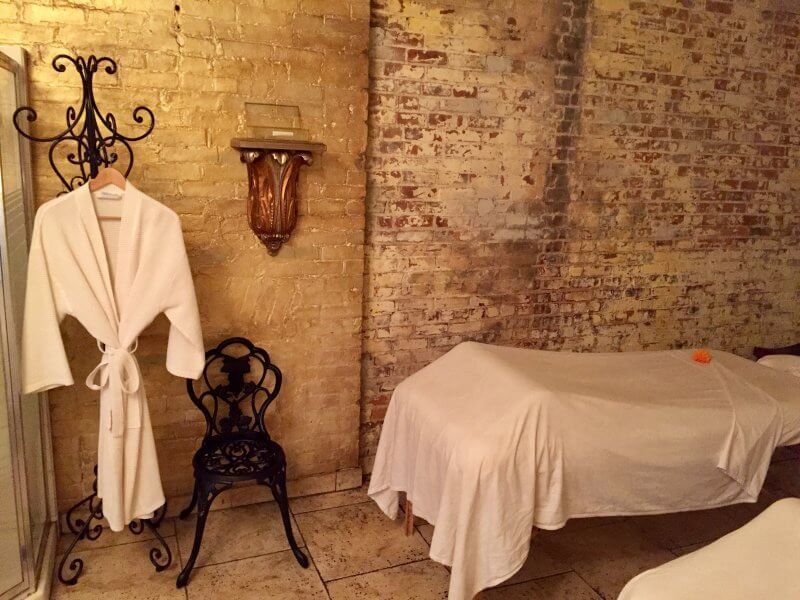 FAB: What changes have you made to your method of business over the years as your customers changed?
Marsha-Ann: We have increased our daily hours and are also open 7 days a week except for mid-summer when we close on Sundays to allow team members to enjoy [some of the] weekend. We also now offer a much wider selection of massages, facials and spa packages than when we opened.
FAB: If you were to offer one piece of advice to someone, especially a female entrepreneur just starting out with a spa or wellness business, what would it be?
Marsha-Ann: I would definitely encourage that person to become trained in at least one modality. It's best if you as an owner know how to be hands-on. That way you definitely know what is expected and how best to deliver services offered. Knowledge is power.
FAB: If you didn't own a spa, what would you be doing now?
Marsha-Ann: That's a difficult question… SPA has always been my passion. I would definitely be self-employed, probably as an interior designer.
FAB: Anything new developing you want to share about your business?
Marsha-Ann: We will be concentrating on a variety of skin peels this fall. Our new line, Rhonda Allison, is yielding awesome results, especially with skin renewal and rejuvenation for all skin types and ethnicities. Everyone needs a facial especially after summer is over to get the skin prepared for the winter months. Our peels are becoming increasingly popular.
FAB: What's your favorite FAB business (besides your own)? Why?
Marsha-Ann: Neal Farinah Salon… the stylists do a great job and the atmosphere is very laid-back with a Caribbean vibe.
FAB FAST FACTS with Marsha-Ann!
Decisions, decisions… personal choice: massage or body treatment? Massage
Most soothing aromatherapy scent: lavender, lemon or vanilla? Lemon
In the car: talk radio or music? Music
PC or Mac? Mac
Finish the sentence: A relaxing day for me includes a book, a beach, and my music!
Cynergy Spa
87 Fort Greene Pl. (Fulton)
Fort Greene, Brooklyn 11217
(718) 403-9242
Open:
Mon. – Thu. 11 am to 7 pm
Fri. – Sat. 11 am to 8 pm
Sun. 12 pm to 6 pm