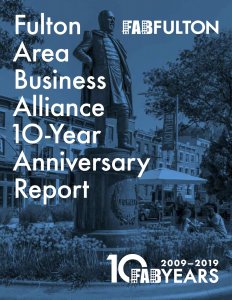 FAB FULTON is commemorating its 10-year anniversary with a new report highlighting its accomplishments available here. "I am extremely proud of all we have accomplished this past decade, especially our advocacy work to support the merchants in our district and the creation of many new vibrant public spaces," says FAB FULTON Executive Director Phillip Kellogg. "We have established a strong organization with dedicated partners that has achieved great success in many areas. From clean and safe streets to tree-lined pedestrian plazas with benches and bike racks, no job was too large or small for us if it could help the community we serve."
With just 3 employees (2 full-time and 1 part-time), FAB FULTON represents a district that is 1.4 miles in length with 425 businesses and  property owners. Over the past 10 years, FAB FULTON helped secure more than $9 million in grants, sponsorships, and in-kind support for various initiatives including the construction of new public spaces at Fowler Square, Putnam Triangle, 7-Corners, and Gateway Triangle. Since FAB FULTON was founded, 76,999 hours have been logged by its supplemental sanitation crew, 8,455 instances of graffiti removed, 125 bike racks and 41 light-pole banners installed, 45 trees planted, and more than 30,922 people have been reached with the organization's marketing materials.
Other highlights of FAB FULTON's efforts include working with the NYC Police Department officers of the 88th Precinct and Brooklyn North on crime and quality of life issues and seeing dramatic results, especially in Southeast Clinton Hill. FAB FULTON also partnered with dozens of community groups and arts institutions to create free public events that drive foot traffic and positive word-of-mouth advertising for the district.
"Through our network of 76 BIDs across the five boroughs, we know that communities thrive when they come together," says Gregg Bishop, Commissioner of the New York City Department of Small Business Services. "For ten fabulous years, FAB FULTON has been helping to build a stronger neighborhood by supporting local businesses and creating opportunities and a welcoming environment for residents, merchants, and visitors."