IT'S HEATING UP!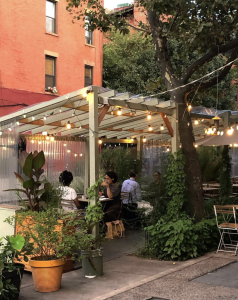 Summer fun days (and nights) await you on FAB Fulton! There's something for just about everyone. Look into these FAB happenings going on at our local merchants:
Take in a good meal or a glass of wine, beer, or other beverage at one of the many fantastic outdoor settings in our district. Fritz Cocktail Bar, Endswell, Black Forest Brooklyn, Margot, Bati Kitchen, and Otway (shown) are FAB picks! Take the whole family to Forma Pasta or Ojala Mexican for budget-friendly meals in amazing backyard settings!
Get into something new with regular tastings at several spots along the corridor: Greene Grape Wine, Leon and Son Wine, Thirst Merchants, Olivino Wines, and now Fulton Grand all have hosted events recently with new brands and products; follow them on Instagram for notification of the next events.
If you like your outdoor dining with a side of extra fun, check out Fort Greene mainstay Habana Outpost; they're back with outdoor dining with movies, on Sundays this summer! Bklyn Burro has a cool set-up out back, with a big screen that's usually tuned to soccer. (They also occasionally have a DJ pop by for happy hour tunes!) And if you're into "The Bachelorette," Endswell hosted a pretty popular premiere party this season; we think they'll perhaps have a special fête for the finale.
Music is your jam? Catch live performances at Sisters Bklyn, 33 Lafayette, and Peaches Prime, in addition to FAB events like Jazz at The Plaza and the upcoming Brooklyn Music School series. Like trivia? On Wednesday nights, show off your smarts at DSK and Fancy Free! Or, work on your table tennis technique with a coach, at Ping Pod!
Prema Yoga is adding several new offerings, including Puppy Yoga and a Dance Party, and there's always something going on at Greenlight Bookstore, from book launches to storytime for young readers. Don't miss their Annual Sidewalk Sale, coming July 22! Plus, get dialed into the regular schedule of happenings at local cultural institutions; everything from poetry slams to blockbuster movies to glass-blowing workshops can be found at the likes of BRIC, BAM, and Urban Glass.
The point is, FAB Fulton has so much going on; be sure to follow our social media feeds to stay in the know!
FREE SUMMER MEALS
The Summer Meals Program is available throughout New York City to anyone ages 18 years old and under. Designated public schools, community pool centers, parks, and food trucks will be open for breakfast and lunch service through September 1. No registration, documentation, or ID is necessary to receive a free meal. Go here for details and locations.
MANDATORY COMPOSTING IS COMING
News 12 reports that City Council recently passed a legislative package that requires all New Yorkers to participate in the citywide compost curbside pickup, including all yard waste and food scraps.
Collected in brown bins that will be issued by the Department of Sanitation (DSNY) to all residences that do not have one, compost will be picked up on your recycling day. For anyone who doesn't participate, that trash might get a little expensive – with fines starting at $25 for the first offense and going all the way up to $100 for future offenses.
The environmentally friendly plan will be rolled throughout the city in cycles. All of Brooklyn will receive the curbside composting service by Oct. 2; the Bronx by March 25, 2024; then the entire city by Oct. 7, 2024.
NATIONAL NIGHT OUT: SAVE THE DATE
Mark your calendar for August 1, and get ready for the annual community celebration known as National Night Out (NNO)! Your local NYPD 88th precinct officers welcome you to enjoy a day packed with fun, including rides, free food, music, and more. Bring the whole family, and meet the officers that patrol and serve your neighborhood, while making summer memories!
FAB FLICKS HEATS UP
Our next FAB Flicks feature is a hot pick for a July night! Disney / Pixar's "Turning Red" is a funny tale the kiddos will love! Mei Lee is a confident, dorky 13-year-old torn between staying her mother's dutiful daughter and the chaos of adolescence. Her protective, if not slightly overbearing mother, Ming, is never far from her daughter—an unfortunate reality for the teenager. And as if changes to her interests, relationships, and body weren't enough, whenever she gets too excited (which is practically ALWAYS), she "poofs" into a giant red panda!
Check out "Turning Red," Thu., July 13, at Jitu Weusi Plaza in Clinton Hill. Free admission; limited seating opens at 7:30 pm and the movie starts at dusk. Get there early to enjoy music by DJ Des One, sweet treats by Oh Sweet Mason, and sign up for our raffle for sweet prizes before the movie! RSVP here.
Our FAB Flicks movies series is made possible by BAM, NYC SBS, NYC DOT, and Councilmember Crystal Hudson.
INTERNET FOR ALL
The Federal Communications Commission (FCC) administers the Affordable Connectivity Program, which can help you save money on your Internet bill (up to a $30 service discount), and you may be able to get high-speed service for free! Learn more about qualifications and apply here today!
FREE COMMUNITY FITNESS
Yoga for the people!
Get a zen start to your Sunday with this free all-levels yoga class in Fowler Square Plaza (Lafayette and Fulton), on select dates this summer. Shala Yoga instructors will lead a 45-minute vinyasa flow session on the open plaza. The next class is on July 9 at 9 am.
RSVP in advance here. Bring your own mat and a water bottle. Rain dates scheduled and TBA.
Clinton Hill, you'll get yoga for the people, too, in free sessions with Prema Yoga at Jitu Weusi Plaza, Sun., July 23 and August 20. RSVP for the classes here.
Our Community Fitness series is powered by The Brooklyn Hospital Center. Hope to see you there!
ABOUT FAB FULTON
The Fulton Area Business Alliance (FAB FULTON) is a non-profit organization that advocates for and collaborates with small businesses and property owners along Fulton Street in Brooklyn's neighborhoods of Fort Greene and Clinton Hill to maintain a safe, clean, and welcoming community while securing resources and partnerships for initiatives that enhance and promote the district.