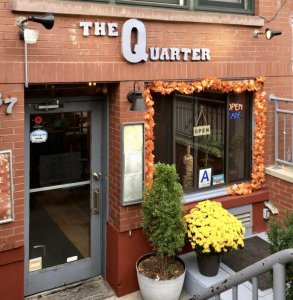 If you know Brooklyn, you know brunching and bar-hopping are akin to Olympic sports, and The Quarter is a popular Fort Greene destination for both! Tucked into a quiet end of Lafayette Avenue, with a cute but unassuming storefront, The Quarter has earned a nearly perfect 5-star Google rating by serving up a trifecta of good food and drinks in a cozy, charming atmosphere via great customer service. We spoke briefly with the FAB-favorite's humble owner/partner, Alpan Eke, who deferred all praise for his successful spot to his hard-working team (including his manager, Fatih Yilmaz, pictured).
FAB: Where are you from originally?
Alpan E.: Istanbul, Turkey
FAB: Why did you choose Fort Greene for your location?
Alpan: It was a coincidence, however, we love the neighborhood.
FAB: How has the business/industry changed since you first opened?
Alpan: The area developed rapidly; lots of high-end residential apartments have been built. Parallel to that, new restaurants have also opened in the neighborhood.
FAB: What's your favorite FAB-area business (besides your own) and why?
Alpan: Hungry Ghost and Deniz Mediterranean Restaurant. Both have great food and coffee and friendly service.
FAB: What's the most challenging aspect of your business?
Alpan: Finding talent is becoming more of a challenge, especially for the kitchen.
FAB: What are your outside passions and do they ever influence or inspire your business decisions?
Alpan: I like to explore the food scene in the city. Getting ideas to keep us ahead of the curve and help us to get better in terms of creativity interests me.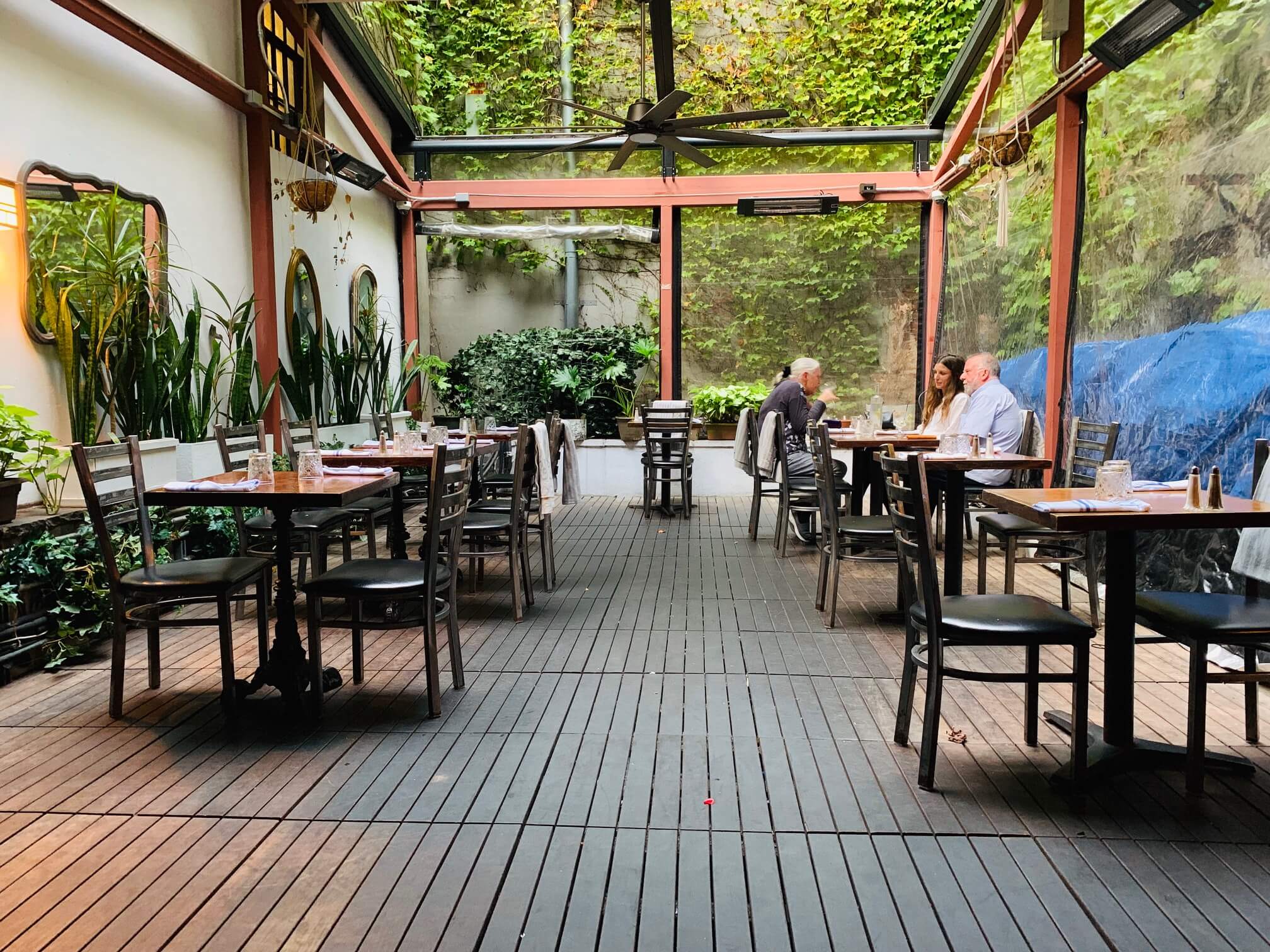 FAB: What inspired your popular backyard area?
Alpan: We wanted to create something unique, a secret oasis with some "wow." It worked out very well.
FAB: If you didn't own a restaurant, what would you be doing?
Alpan: Most likely running and tending a bar.
FAB: What knowledge or advice would you share with another small business owner?
Alpan: Great, friendly, consistent service along with creative dishes are key to successful restaurant operation.
FAB: What's next or new for The Quarter Brooklyn?
Alpan: As the holiday season is upon us, we welcome guests to our Winter garden with lots of lights…
FAB FAST FACTS with Alpan!
Personal favorite: brunch or dinner? Dinner
At the bar: beer or wine? Wine
Favorite shoulder season: spring of fall? Fall
Ambiance: classical or jazz music: Jazz
Finish the thought: To me, the BEST thing about Brooklyn is… CULTURE
The Quarter Brooklyn
87 Lafayette (S. Portland)
Fort Greene, Brooklyn 11217
347-987-4012
Open
Monday to Wednesday: 4pm – Midnight
Thursday and Friday: 4pm – 2am
Saturday: 10am – 2am
Sunday: 10am – Midnight
Reservations are accepted, and The Quarter is also available for special events and private parties.
Follow them on Instagram and Facebook!
(And check out the I AM FAB interview for more with Alpan on the latest episode of FAB FULTON: THE PODCAST!)